Welcome to Immaculate Conception Parish, a Roman Catholic Church nestled in the beautiful mountains of Clarksburg, West Virginia. We hope that our website provides you with the information you need to nurture and support your faith here in the parish and beyond.
If you are new to the parish we extend a special welcome to you and pray that you will find a warm home here. Please introduce yourself after Mass or feel free to stop by the Parish Office located in the Parish Hall directly behind the Church.
We invite all our parishioners to join fully in our life at Immaculate Conception Parish. We serve the community through worship, outreach, education, social activities, sacramental preparation, and comfort to the sick and those who mourn. Feel free to contact us if we may be of service to you in any way.
Very Rev. Casey B. Mahone, VF, Pastor
To register with Immaculate Conception parish, use one of the following links:
Printable IC Registration Form Online IC Registration Form
Parish Update December 1, 2023
To view Mass livestream click here
Sister Maria will have a Bible Study on Monday, December 4 from 12:30 – 2 pm in the Parish Center.
The Men's Group meets on the first Tuesday of each month. The next meeting will be held on December 5 at 6 pm in the Parish Center. All men are welcome!
Please join us in praying the Rosary to Our Lady of Fatima on Wednesday, December 13 at Noon at the Knights of Columbus Hall at 334 East Pike St., Clarksburg.
Donations for Christmas flowers will be accepted until December 3 in the collection baskets at Mass, in the drop box at the office or it can be mailed. These donations can also be made online. It is listed in Second Collections in the online giving section of the webpage. Names will be listed in a bulletin after Christmas.
Office Hours
Monday - Friday 8:30 am - 3:00 pm

The Parish Office will be closed November 23-24 for the Thanksgiving Holiday.
CCD
CCD/Youth Ministry:
CCD classes are held every Sunday at 9:15 am to 10:45 am in St. Mary's Grade School.
First Reconciliation and First Communion classes will be held on Tuesdays from 6-7:15 pm in Notre Dame High School. The next class will meet on December 5 and the lesson will be: God Sent Jesus to Save Us! For additional information, contact Sister Maria SJI at 304-622-8243.
Confirmation – Candidates will attend 8 am Mass this Sunday, December 3. There will be a pancake and sausage breakfast with the CCD students following Mass. Everyone will participate in a service project after breakfast. Confirmation class will not be held on Sunday evening December 3.
OCIA
OCIA (formerly RCIA) – Next class will meet on Thursday, December 7 in the Parish Center at 7 pm. The topic of discussion will be "Scripture". All are welcome! If you would like more information, email Fr. Casey at [email protected]
Parish Nurse Ministry
Parish Nurse Ministry:
The monthly group of the Bereavement Group will be held on Saturday, December 16 from 9 am to 11 amin the Parish Center. We will welcome returning members and any new members would like to know more about our group and program. Please note the time change for this meeting.
Daily Readings
Weekly reading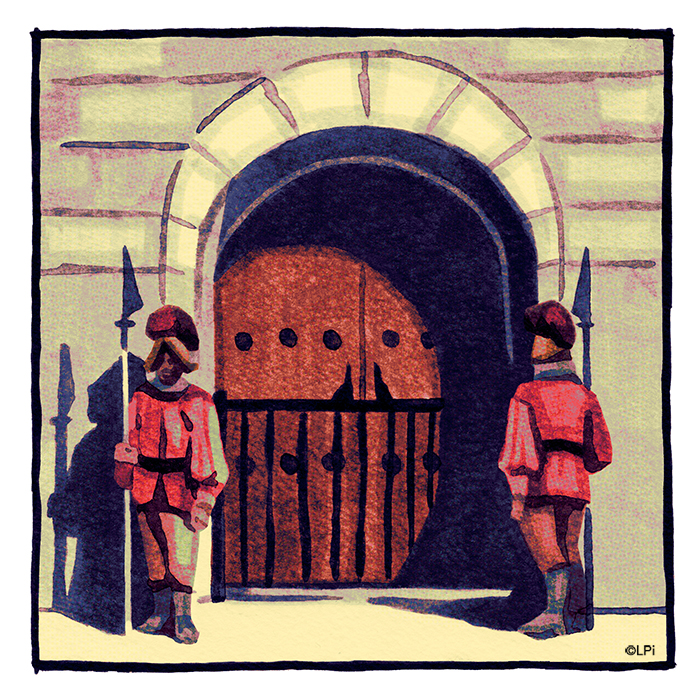 Weekly reading
Readings for the week of December 3, 2023
© Liturgical Publications Inc
Mass Times/Services - Church
Monday/Tuesday - 8:00 am
Wednesday - 7:00 pm
Thursday/Friday - 8:00 am
Saturday - 4:30 pm
Sunday - 8:00 am; 11:00 am

Confessions are heard on Saturdays from 3-4 pm.

Spanish Mass is held on Sundays at 9:15 am in the Church.

Next Holy Hour of Eucharistic Adoration will be held on Friday, December 1 in the Church from 4-5 pm.
Faithful Bakers
The Faithful Bakers will be making Pita Piatas on December 1, 4, 6, 8, 11, 13 and 15. Baking will be done on Monday, Wednesday and Friday. Anyone who can help with this Ministry, please call Ionia Stemple at 304-629-6844. To place an order, call Ethel Shorr at 304-629-9941 or the Parish Center at 304-622-8243. The cost is $12 each and may be picked up at the Parish Center from 9 am to 3 pm on the dates listed. Pita Pitas will also be sold at all Masses December 2-3, December 9-10 and December 16-17. All proceeds will go to help with the Church renovation.
Parish Family Guild
Make plans to attend the Holly Jolly Christmas Party sponsored by the Family Guild on Saturday, December 16 from Noon to 3 pm in the Parish Center. We will have snacks, games, prizes, and Christmas crafts! We will finish the afternoon with a gingerbread house decorating contest, a Christmas movie, and a special visit from jolly ole Saint Nick! This will be a great opportunity for us to entertain the kids while parents check off some important holiday tasks on their to-do list!! Ages Pre-K through 6th . Bring a friend! If you have any questions or would like to help in any way, please contact Missy McAra at 304-695-2175. It can't be any easier...pick up the kids and head to 4:30 Mass!
We will continue to collect (through December 13) non-perishable food items, i.e., canned vegetables, instant mashed potatoes, instant boxed stuffing, boxes of mac & cheese, etc. There will be boxes marked "Christmas Food Baskets" in the vestibule of the Church. Christmas Food Baskets will be distributed Sunday, December 17 from 2-4 pm.
Angel sign-ups will continue after all masses. Gifts are due by Wednesday, December 13 at the Parish Center. Distribution of th Angel Tree Gifts will be on Sunday December 17 from 2-4 pm. If you have questions or would like to help in any way, please contact Missy McAra at 304-695-2175.
Upcoming Parish Events
IC Memorial Brick Garden
Immaculate Conception Memorial Garden Memorial Bricks on the Main Street Patio
of the Parish Center can be engraved with up to 3 lines and a total of 48 characters.
Cost per brick is $100 and checks should be made
out
to I. C.
(Immaculate Conception Church).
For more information, call the office
Promise to Protect - Promise to Heal
To report an incidence of suspected child sexual abuse, please contact your local law enforcement agency, or you may confidentially contact WV Child Protective Services at 800.352.6513. In addition to civil authorities, to report suspected cases of sexual abuse by personnel of the Diocese of Wheeling-Charleston to the Diocese, please contact the Diocese at 888.434.6237 or 304.233.0880.Please visit www.dwc.org under "Accountability" for additional information and reporting methods.